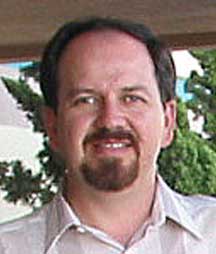 Eduardo Sahagún Godínez
Profesor de Botánica, Análisis florístico y Documentación de Material Biológico
en la Universidad Autónoma de Guadalajara (UAG).
Encargado del herbario "Carlos Luis Díaz Luna"
Doctor en Ciencias Biológicas (Universidad de Guadalajara).
Master of Science (Texas A&M University)
Licenciatura en Biología (Universidad Autónoma de Guadalajara),
Intereses de investigación: Florística y ecología de comunidades en el
bosque tropical caducifolio y bosque mesófilo de montaña.
Uso de plantas como indicadores de contaminación atmosférica.
Taxonomía de Gesneriaceae y Orchidaceae.

Publicaciones:
Sahagún, E., E. L. McWilliams and W. D. James (En preparación). Atmospheric heavy-metal pollution in western Mexico using Tillandsia recurvata (Bromeliaceae) as a biomonitor.
Sahagún, E., J. A. Vázquez y E. Pimienta. (En revisión). Ordination of cloud forest at cerro La Mona, Sierra de Coalcoman, Mexico. Plant Ecology.
Lomeli, J. A. y E. Sahagún. 2002. Rediscovery of Pedilanthus coalcomanensis (Euphorbiaceae), a threatened endemic Mexican species. American Journal of Botany 89 (9): 1485-1490.
Sahagún, E., J. A. Lomelí and A. Prather. 2001. Habitat and range extension of Cobaea lutea (Polemoniaceae) in western Mexico. Acta Botánica Mexicana 54: 29-37.
Sahagún, E. y J. A. Lomelí. 1997. Pedilanthus diazlunanus: pollination by hymenopterans in a bird-pollinated genus. American Journal of Botany 84(11): 1584-1587.
Sahagún, E. 1996. Trends in the phenology of flowering in the Orchidaceae of western Mexico. Biotropica 28(1): 130-136.
Lomelí, J. A., y E. Sahagún. 1993. Pedilanthus diazlunanus: especie nueva del sur de Jalisco. Acta Botanica Mexicana 25: 15-20.